Flirt4free.com is a popular online webcam community, which has already united thousands of people from all countries of the world. This website is officially registered in California, USA. Consequently, Flirt4free is a legit cam website, which is proved by the strict California laws. This cam service for adults has been in the industry since 1996.
You can imagine how experienced in sex cam industry they are. Registration is free at this website. There are many paid services, which open doors to numerous site features. Flirt4free.com is protected from hackers and offers 24/7/365 customer support. Overall, this site will undoubtedly make happy everyone who adores communicating with cute nude women. Therefore, keep on reading the review to know more details on this issue.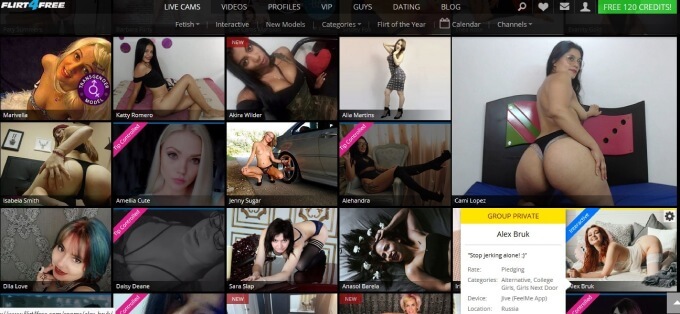 Registration
Flirt4free offers entirely free registration despite your current location. To do it quickly, you need to enter:
Username;
Email;
Password.
That is all. In a second, you will receive a confirmation email, but it is not obligatory to confirm your registration immediately.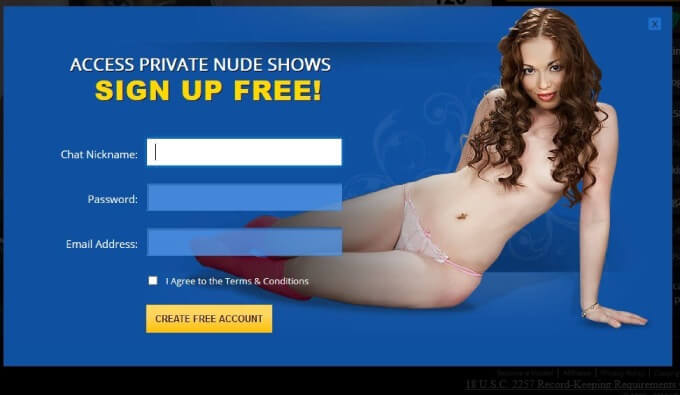 Fortunately, you need not indicate any credit card details during registration. You will need your credit card info only when you pay for services.
After you have registered, you can update your profile with information about yourself and your preferences. Additionally, you would better attach a couple of explicit photos to allow women to enjoy your body before you start private chatting.
Site features
The developers of Flirt4free have launched plenty of excellent features aimed to make your webcam experience easier and more entertaining. Below you will find the description of the most important site features.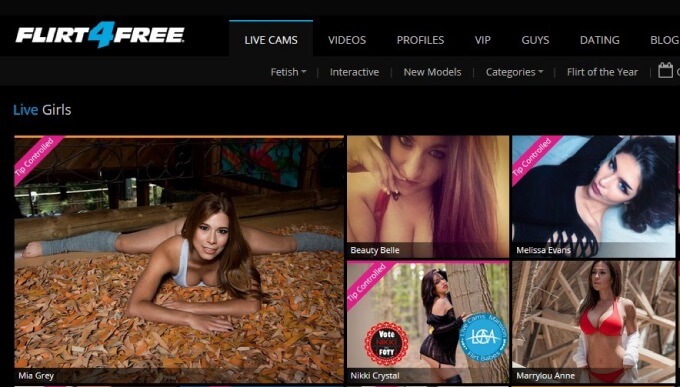 Member types
Flirt4free offers four types of members. These are:
Guest user. It is any user who browses Flirt4free without registration and personal account;
Basic member. You can become a basic user right after the filing and email confirmation of your account;
Premium member. It is a verified and register member who indicated a payment method to the personal account;
VIP member. When you purchase at least a monthly subscription, you become a VIP member. In this case, you also get plenty of additional advantages while communicating with sexy cam models.
Categories
All cam models on this website are grouped in many categories. It means that you can browse those, which correspond to your preferences most. These are such categories as Mature, Squirters, Tattoos, Transgender, Latina, Milf, Anal, Shaved pussy, Giant Dildo, Fetish, Group show, Domination, European girls, Brazilian, Big Butts, BBW, Strippers, etc. There is a number in front of each category. It shows the number of people who are online now in the corresponding group.
The full list is available on the photo below:

Tipping
You can use the tipping option to give more attention to a sexy model, which you are chatting with. This interactive feature is beloved by thousands of users. Using "Tipping" helps you to give the model a straight sign that you enjoy her company.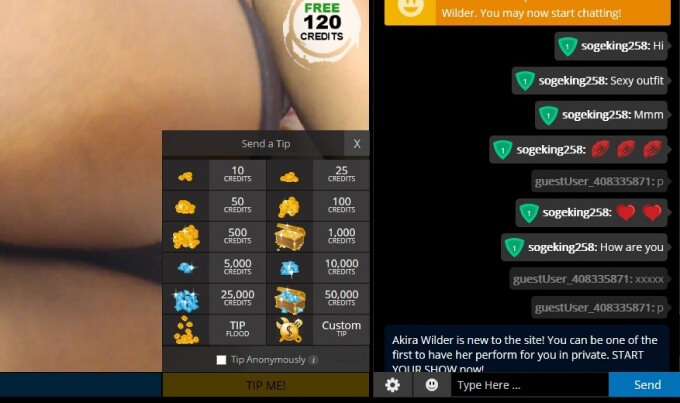 Tipping amount depends on your desire. Thus, you can tip from five to 100,000 credits. For security reasons, not all site members can send large tips. If you do want to do it, you need to contact a customer support representative to confirm your desire.
Communication with models
Flirt4free offers various types of interaction with models. As a rule, the most popular ones are:
Private messages;
Whisper messages;
Live cam chat.
All Premium and VIP members can use the messaging system to communicate with performers. On the right corner of the computer screen, you can easily find an "Envelop" icon. The system operates like email. The difference is that you receive and send texts directly through the Flirt4Free site. When you click on "Compose" icon, you can write a message to your chosen model by typing the name of the desired woman or by selecting one from your "Favorites." When a woman answers you, you can find the corresponding letter in your "Inbox."
Whisper messages
This site feature allows you sending messages to the models privately. This option is also available for Premium members and VIPs. To write a secret letter, you must follow the specific syntax: /Text of your message.
For example: /hi, baby, are you ready for hot entertainment today?
We would also recommend that you should not use any rude or offensive words in your messages. You should respect the site performers and each other. Otherwise, your account will be blacklisted immediately if any model complains about your behavior.
Live video chat
Flirt4free offers the most established and advanced live video chat service on the Web. The site perfectly combines sophisticated technologies with gorgeous women from all corners of the world. It is the most demanded feature and communication tool on Flirt4free. Just enter a model profile and join Free Public Video Chat zone. Here you can use the tipping feature or just chatting with other users about the model. Additionally, you can invite her to a paid private show.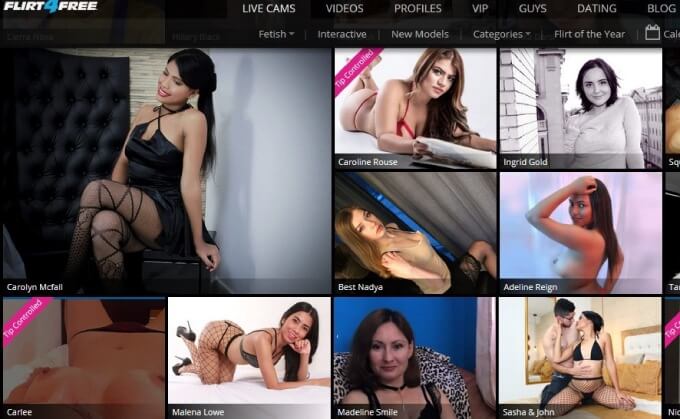 Flirt Phone
"Flirt Phone" feature is another favorite tool for receiving the ultimate entertainment on this site. Flirt Phone can help you to intensify your relationship with a model quickly. This option allows you communicating over the phone with a model during a cam show and even call to a model when she is offline. It is a paid service. The price is available on a performer`s page.
Cam2Cam
You can use this outstanding feature during your private sex shows. It allows you seeing each other and talking with the help of a microphone. Please note that you can switch a camera whenever you like and continue just private show mode when a model does not see you. Cam2Cam option is a paid service. It is available for all Premium and VIP members. To use this option, you also need to have any webcam compatible with Flash.
Note! Cam2Cam chat is not available for Semi-Private, and Voyeur shows.
Advice. Before you pay for a private show, you would better make sure that both your microphone and camera work. Go to the Test Page.

Social media
Flirt4free is also available in the most popular Social Media. You can join it everywhere using your favorite network – Instagram, Facebook, Twitter, etc.

Private show
"Private show" feature is available for all members who have enough funds on the deposit. To start a private show, you will need to choose a performer, click on her profile, and click on "Enter show now" button. In the private shows, models usually agree to do something special for you if you are gentle, polite, and tender. You can talk about everything you want and ask each other to do whatever you want. The private show can last as long as you wish depending on your credit amount.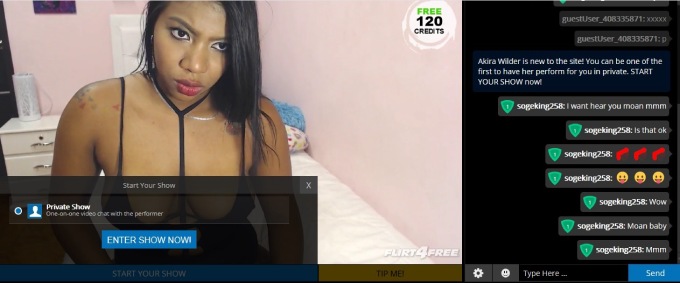 Currently, such private shows are available:
Standard private show (A model and a customer are alone in the show. However, other site members can give their credits to voyeur);
Semi-private show (A registered customer pays for entering a show. Other members can also pay and join. However, they are invisible to each other);
Multi-user show (Numerous registered members can participate).
Flirt of the year
You can also help models to win their most favorite challenge, which is so essential for every model. It is Flirt of the Year Challenge 2018. Models do their best to collect the most substantial amount of credits and become of one hundred best models of 2018. In 2018, the most exciting sexy camming competition started on October 1, and it will be finished on December 31.

Thus, if you already have your favorite model, you can help her to win the sex cam battle by giving her lots of tips, pledges, and private shows. You do want to have private shows with the flirt champion, do not you? Therefore, give your woman as many credits as you can. If you wish to, of course-)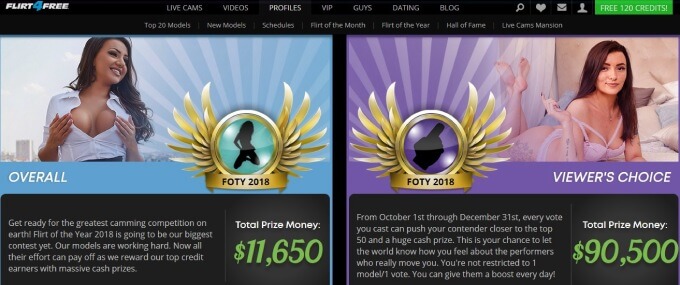 Become a model
"Become a cam model" is another favorite Flirt4free feature. It is available for both women and men who are at least 18 years and have a valid ID with photo. To become a model, you must fill in the form below: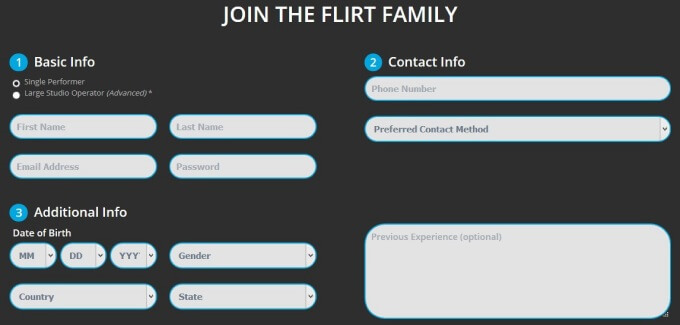 All applications are reviewed within an hour. It means that you can start your cam model career on the same day.
How much you can earn: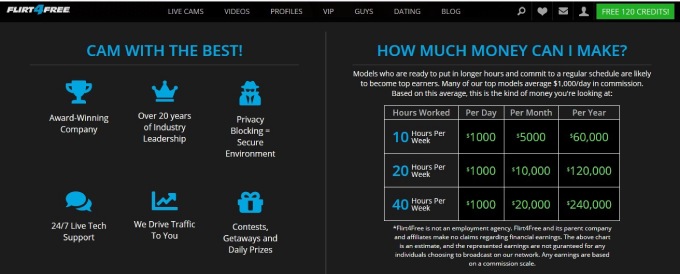 Pricing
Open rooms are free for all registered members. Here you can watch a group show for free. If you want to tip a model and start a private show, you need to pay.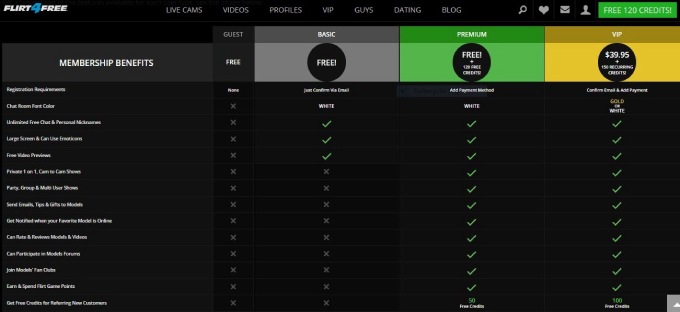 Credits
Every site member can use his credits to tip models in Private, Public, Multi-User, Voyeur and Group cam shows. You can also use credits to buy access to various premium activities and videos on demand. The list is changed every week. Details are always available on Flirt4free.
VIP package price
Flirt4free offers two key options for VIPs:
$39.95 per month VIP package + plus 150 reoccurring credits;
$49.95 per month VIP package + that deposits 300 reoccurring credits + secret VIP perks.
Payment methods
You can buy credits using the following pages:
"Need more credits?" page;
"Your account/Credits" page.
Flirt4free recommends using the following secure payment methods:
Visa/MasterCard credit or debit cards;
Phone payment (phones are available on "Support" page);
Wire bank transfer.
Bonuses and promotions
All new members receive a lucrative welcome gift of 20 credits just after registration. Premium and VIP members of Flirt4free can count on weekly and monthly promotions. Their amount depends on everyday activity on the site. Additionally, VIP members receive 5% discount when buying any videos on this site.
New members can also redeem 120 free credits during the first week of using the site. Details are available on your account page in "Get 120 free credits" section.
Safety and Security
Flirt4free guarantees its members the maximum possible level of security of their personal and financial information. Owing to the sophisticated firewall, your data are safely kept on the site servers. The system has installed four-level online protection system, which 100% protects your account and banking details. Be sure that no hacker can possess your information, which you share with the site (registration details, personal info, chat history, transactions data, etc.)
Additionally, a special team on the site regularly monitors users` activity and checks all doubtful accounts. If any information about scammers is confirmed, such accounts are immediately blacklisted. Flirt4free also shares such info with other cam sites to make it impossible for fraudsters attack you on other resources. Such cooperation between various webcam sites has already brought positive results.
More details are always available on Privacy Policy and Terms & Conditions. If you hesitate in anything concerning security issues in Flirt4free, you can always check the corresponding sections in details.
Customer Service
Flirt4free cares about the fact that you feel comfortable on this website. Sometimes you feel a great desire not to look for an answer in the FAQ section but to talk to real support managers. That is why you can find phone numbers with real human support managers. The support department of Flirt4free is available 24/7/365.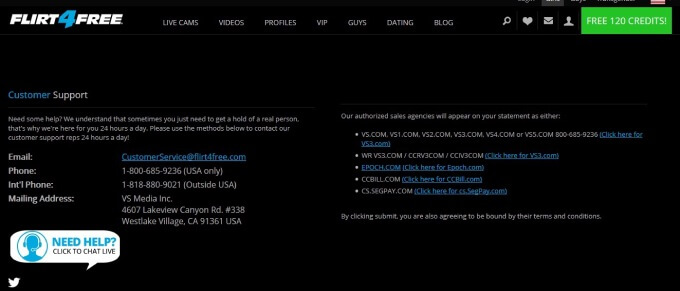 You can use any of connection methods from the list below:
Live chat;
The ticket system for submitting help requests;
Email (

[email protected]

);
USA number (1-800-685-9236);
Outside USA number (1-818-880-9021).
Pros & Cons
Below you will find the list of benefits and drawbacks of this cam site. We have highlighted the most common of them.
Advantages of Flirt4free:
The quickest and the easiest registration;
No credit card data required;
Thousands of amazing women;
Customer support: 24/7;
Reliable firewall and online protection;
No spam;
Affordable prices;
Lucrative reward program;
All site features are useful;
Ability to earn extra money;
High-quality of all videos;
Perfect sound quality;
All transactions are secured;
Friendly interface.
Disadvantages of Flirt4free:
Phone support often not reachable;
Prices might change unexpectedly;
Video session speed sometimes too slow notwithstanding user`s stable internet connection.
Models quantity

Models quality

Customer support

Price

Privacy
Conclusion
Therefore, Flirt4free.com is a strong webcam community, which offers plenty of options for unforgettable online video chatting. All site features will help to realize all secret sex dreams because all available models are ready to give you the uppermost enjoyment. Prices are reasonable, which allows using all site options for the unlimited time. Lucrative bonuses and promotions will enable saving some money while viewing online sex shows. Therefore, do not lose your time and register at Flirt4free.com just now. Then start using it and prepare for unforgettable sexual excitement.